I recently made a trip to the big apple…speaking of Apple, I couldn't miss their advertisement when capturing the Empire State Building from my hotel room. Good ad placement!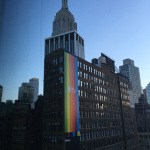 I got a chance to see a few sites including Times Square and Central Park. It was cold and some snow left from a prior storm, but the city truly is amazing.
One of my favorite parts of New York are all the great galleries and museums. I spent some time in the Metropolitan Museum of Art and saw some amazing art. Here are a few that I photographed.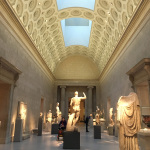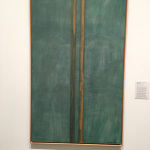 Barnett Newman's oil painting "Concord"
In 1948, Barnett Newman began painting in a new and unique format. Abandoning the use of various other abstract elements on the canvas, Newman instead laid down one or more vertical bands usually with the help of masking tape. As you can see here, the tape was never removed. Makes you wonder, was it intentional or just because it wouldn't remove cleanly like the newer blue painters tape that is loved by present day artists and home owners alike. Anyway, these "zips," as he came to call them, became the organizing principle behind the work, the decisive elements that structure the entire picture.
Concord was painted during Newman's most prolific year. It was shown at the artist's first solo exhibition, at Betty Parsons Gallery in 1950, which was installed with the help of his friend, you may know of him… Mark Rothko (one of my personal favorites). The picture's green layer of paint is uncharacteristically brushy, and it was perhaps with its atmospheric wash in mind that Newman titled the painting after the town famous for Henry David Thoreau's Walden, where he and his wife, Annalee, had honeymooned fourteen years earlier.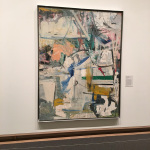 Willem de Kooning's painting "Easter Monday"
Named for the day on which it was completed in 1956, this is the largest of ten grandly scaled paintings de Kooning exhibited at Sidney Janis Gallery that spring. In his review of the exhibition in Artnews, the critic Thomas Hess likened the works to "abstract urban landscapes"; indeed, in its highly textured surface, swooping lines of paint, and glimpses of newspaper transfers, Easter Monday seems to reference the whirling pace and gritty detritus of the modern city. The transferred newsprint, particularly visible at the bottom and top right, remains aligned with the edges of the canvas, enforcing the tenuous grid structure of the painting. Shot through with Rubensian fleshlike pinks and vivid blues and yellow, Easter Monday is a tour de force of de Kooning's 1950s style.
Share and Enjoy