So I should probably focus more on promoting myself, but sometimes great things come your way regardless. I'm a pretty humble person, but I am learning to celebrate me more and this is something I am extremely excited about and want to shout from the roof tops!
I was approached about a full spread featured artisan article, interview and photoshoot about me and my art for the upcoming March 2018 issue of St. Louis Homes + Lifestyles magazine. They interviewed me and came to my studio for a photoshoot late in 2017. The magazine will be published near the end of February. I am so excited to see how it all comes together!
Here is a sneak peak, I was able to capture a photo of the photoshoot, so you get a little behind the scenes preview of what the article will be about.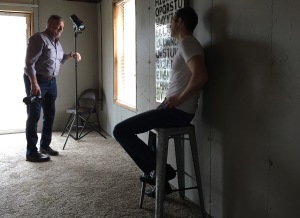 With photographer Colin Miller
Share and Enjoy