I am exhibiting my modern abstract paintings at the Art Fair at Queeny Park April 1-3.
Up to 135 juried artists from 20 or more states, the Art Fair at Queeny Park is one of the most reputable, longest-running art fairs in the bi-state region. Rain or shine, hot or cold weather, relax in the comfort of the climate-controlled Greensfelder Recreation Center. The Art Fair at Queeny Park presents a opportunity for the public to see and purchase original works of fine art and fine craft directly from the artists who create them.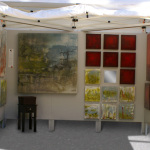 Art Fair at Queeny Park
Friday, April 1, 2016 5 PM – 9 PM
Saturday, April 2, 2016 10 AM – 6 PM
Sunday, April 3, 2016 11 AM – 4 PM
550 Weidman Rd, Ballwin, MO 63011
If you are around St. Louis this weekend, come by the art show and say hello!
Share and Enjoy