After the weekend at the art fair, I had some deliveries of larger paintings that I had sold that needed to be made. I figured I might as well personally deliver the larger pieces and since everyone was local, it made it pretty easy. Plus, I always like to do a little extra for my collectors when I can.
Here are some shots of the installation I did at one of my collector's homes in West St. Louis County. The pieces look really nice in his home, they compliment his décor and add that wow factor.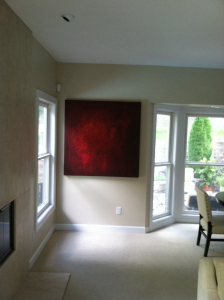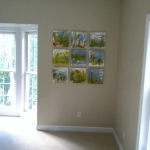 Well, that pretty much finishes my recap of my experience exhibiting at the Historic Shaw Art Fair. I had a great time, and look forward to exhibiting my modern abstract art at more art fairs in the future.
Share and Enjoy