Exhibiting at an art fair takes a lot of preparation. You have to have a tent, display, and of course lots of art. I decided to build my own display panels this time. I built them out of wood frames and thin plywood.
As you can see, building the display panels took over most of my garage. I finally got them done, assembled and all the kinks worked out.
I also had to make about 40 paintings to fill the displays and have some back stock. I decided to exhibit by most popular series. My red and orange series is arguably my most popular to date. Many of my commissioned paintings over the years have been for similar bold and tonal oversized pieces. So that was a safe bet.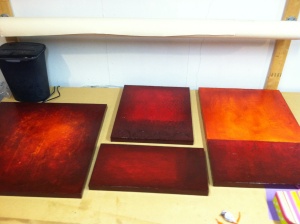 My other series that I wanted to exhibit was my newer blue, green, gray and orange series that has a lot more drips and variation.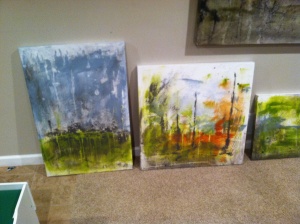 You can also see some progress photos of some of the smaller 12"x12" panels that I made for the art fair. You can see that the one painting in the middle left has several layers of paint on it, but I hadn't added the dark layers yet. As I apply the thin transparent layers of paint, they really start to show the depth of color with the texture on the canvas.
Here are a couple of 4 foot by 4 foot panels I was working on. I love to work at a larger scale, because I love the statement that large art makes in a room when it is the focal point. Plus there is so much more subtle detail you can work into a painting when it is larger.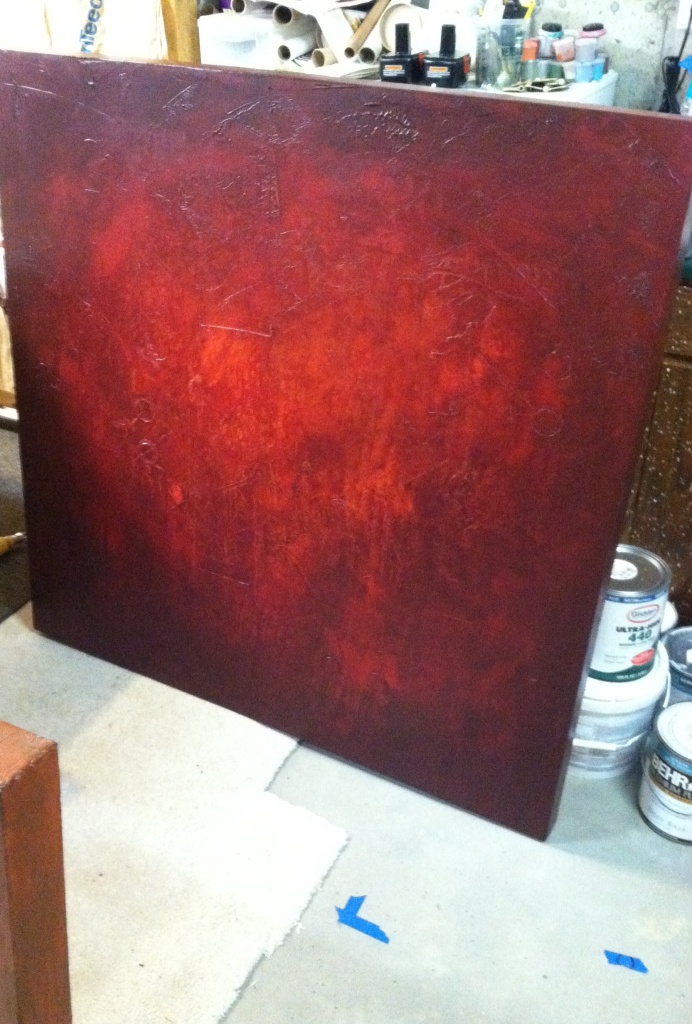 A couple days before the art fair, I got all the art bundled together and packed to set up.
The booth and displays had to be set up the day before. Displaying on a grass area always proves to be interesting; I had almost an 8 inch change in elevation from the front of the booth to the back. I am a bit of a perfectionist… All the leveling and tweaking I did when testing the panels out in my garage was a waste when I got to the event and had that unlevel of ground.
Early Saturday morning, I got everything loaded up and off to the art fair I went!
Share and Enjoy